Posted on WRAL.com 7:15 p.m. Friday, April 20, 2018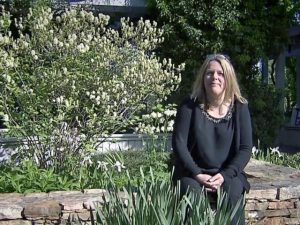 Raleigh, N.C. — A professor at North Carolina State University says spaces, like gardens, that help a person step out of their daily life and think are needed in juvenile justice facilities.
"It's a lot more than that, it's a good way to figure out your place in the world," said Anne Spafford.
Spafford, an associate professor of horticulture, is helping to design therapeutic gardens. She has enlisting her landscape design students to build places of peace at two state-run youth detention facilities.
"Being in a garden setting is just relaxing. It can lower blood pressure, it can calm you, it can de-stress you, so these gardens are very powerful," she said.
Natasha Donnelly, the state assistant manager of health services for juvenile justice, is the force behind the project.
"I love to see people thrive. I love to support people on their journey," Donnelly said.
Throughout her career, Donnelly said she has seen a lot.
"I have seen people in states of despair. They're not horrible people, they are people who have lived through life, that have had experiences that have had a negative impact on them," she said.
Donnelly and Spafford started the project by asking the kids in the system what they would want in a garden.
"We want to get these two gardens in this year. We need to show them something is happening. We want to get them installed, so they know we care. We don't want to let them down. This is a population that has been let down countless times before," Spafford said.
The only thing stopping the project right now is money. The two need to raise about $200,000 to get the project underway. They are applying for grants and are asking for help.
"It's so worthwhile. I think it's essential and I think we have enough knowledge now to really see that this works," Donnelly said.
The first two gardens are being designed for the Cumberland Youth Detention Facility and the Chatham Youth Development Center.
Reporter

Photographer

Web Editor